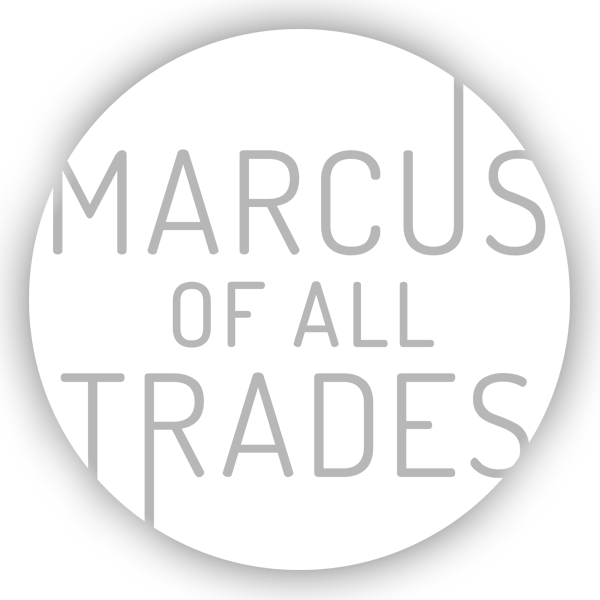 Hi, I'm Marcus, and I'm a "jack of all trades."
In addition to the jobs I'm advertising on this site, I've worked as a camp counselor, a canoe instructor, a legal secretary, a graphic designer, and a bus driver. I haven't been officially diagnosed with obsessive compulsive disorder, but let's say I'm detailed and picky enough to make sure any job gets done well in a timely fashion. I like used books, riding bicycles, and country music (but only when I'm dancing two-step). I have a permanent retainer on my bottom teeth.
Now, let's get to work.


Dancer Marcus

Dancer / Instructor
I started swing dancing in 1999 and teaching dance in 2001. Since 2005, I've owned and operated Momentum Dance Concepts in Van Buren, where I teach east coast swing, west coast swing, lindy hop, two step, salsa, and ballroom (foxtrot, waltz, rumba, cha cha, and night club sway). Sometimes, I teach line dancing, but just sometimes. I offer group and private lessons for singles and couples and also offer choreography for weddings and various events (like musicals). 
And yes, I know you have two left feet. My recommendation: Don't let that stop you from trying to dance anyway.
Cost: $60 / hour for private instruction (1 or 2 people)
$10 / hour for group classes / per hour
$60 / hour for choreography
People Say...
---
"Marcus brings a vast knowledge of dance & enthusiasm to every class. The students love him, and so do the teachers. He can make even the novice dancer look as if they have been taking lessons for years."
- Marla Sandlin -
---
"Marcus is a great dance instructor. I have been taking classes for over a year now and he always keeps it interesting. The classes are relaxed and fun and a great workout."
- Tracy Mackin -


Minister Marcus

Wedding / Ceremony Officiant
In 2012, I became a licensed minister in order to perform a wedding ceremony for two of my best friends. Since that time, I've had the privilege to work with other couples as well. Through the process, I've come to believe strongly in ceremony and ritual, two things that not only help bring couples together, but also bring us together as a society.
Along with great respect for marriage and what it means, I love getting to know couples in order to write a wedding ceremony that is both structured and personal.
So let's get married. Well, let's get you married, and I'll help.
Cost: $150 - $250
---
Funeral / Memorial Service Officiant
I believe it is important to celebrate the lives of our loved ones who have passed away. Funerals and memorial services help us remember and honor our friends and relatives, but they also remind us of what is important in our own lives - how to live with what time we have left.
Read a sample memorial tribute
Cost: $150
People Say...
---
"If you are getting married, and don't know who to have officiate, please consider my dearest friend, Marcus Coker. We convinced him to get ordained & marry us because we couldn't agree on whose "side" he would be on, and because he is one of the most genius orators I've ever known. Really, anyone can marry you, but he will give a performance that you will never forget."
- Chelsea Rodgers-Murrey -


Remodeler Marcus
I love transforming rooms. I can scrape ceilings, paint walls, hang fans, and lay floors. More importantly, I can decorate and bring it all together. Let's do this, let's get rid of those popcorn ceilings.
Cost: $40/hour (per project quote available)
People Say...
---
"For any and all considering the services of Marcus Coker: I wanted to share a word about the sheer genius of his renovation of our house. In the beginning, Sheila and I simply wanted it painted- we had, after all, lived there for 14 years with nary an improvement at all. And truthfully, for several years, Marcus would remark upon every visit to our home that he would like to get some color in our place! Little did we suspect...

"When he began, he led me toward a bold selection of color, and proceeded in the very most thorough way to paint every detail with great care. I did not dream however, that his expert painting was only the beginning! His greatest challenge seemed to be in taking our furniture and decorations (our "stuff") and putting it back into places and in new ways that made the entire interior of the house seem new and revitalized. That is where his true gift and genius seems to lie!

"If you are considering a freshening-up of your place, or a total overhaul, I would recommend Marcus with the greatest enthusiasm. What he has done for our house is bold yet tasteful, innovative, yet completely demonstrative of who we are, and a perfect display of what our lives together have been to this point. We are reluctant to even leave our house any more, so great is our enjoyment!

"In short - Hire the boy! Your lives and homes will simply not be the same!"
- George A. Mann -
---
"I have seen several places Marcus Coker has lived and REALLY liked the way he painted and decorated. When I mentioned that I needed some pictures hung and some painting to do, he asked if I wanted him to do it. My immediate answer was yes AND I wanted him to pick out everything.  He picked out all colors and decorated three bedrooms and remodeled a bathroom. I am very pleased with what he has done and will ask him to do more. Marcus is extremely talented, professional, and creative! I highly recommend him."
- Darlene Morris -


Sitter Marcus

House Sitter / Pet Sitter
Boy, can I sit in a house. Boy, can I sit with a pet (or chase them all over the house). And I can water plants and mop floors. So if you're going out of town and need someone to watch your stuff, give me a call.
Cost: $100/night
People Say...
---
"Marcus has stayed at our home and taken care of our animals for a number of years. Whether we are gone for two days or two weeks, we know all is well and our house will be in perfect order and our animals happy upon our return."
- Lyn Caselman -


Healer Marcus

Traditional Reiki Practitioner
Traditional Reiki is a form of hands-on healing that originated in Japan, and I've been practicing it since 2008. Reiki helps enhance and recharge the body's natural healing abilities, and most people describe it as warm, calming, and relaxing. Personally, I don't know where I'd be without it.
Cost: $40 / hour
People Say...
---
"I always look forward to my Reiki sessions with Marcus. The energy and the balance that I am able to achieve through these sessions really influences my overall functioning, and I feel the effects long after our session is over. The health benefits are the most crucial for me, and I find that reiki helps me greatly with pain and tension. Marcus is simply the best, and he is very in tune with my needs and my goals within our sessions. I highly recommend him to anyone looking to better their quality of life through Reiki."
- Megan Turner -


Writer Marcus

From 2011 to 2016, I was a regular contributor to Do South Magazine (formerly @Urban Magazine) in Fort Smith, Arkansas.
Read some of my articles for Do South Magazine
Currently, I write mostly on my blog, Me and My Therapist.
My goal as a writer is to use language to best convey thoughts, emotions, and concepts. As an editor, my goal is to make sure that correct grammar and punctuation is used and that words are arranged in such a way as to best bring the reader to the ideas and feelings being expressed.
Cost for Writing: Varies
Cost for Editing: $40 / hour (per project quote available)
People Say...
---
"Marcus Coker can tell a story that is full of emotion without being sentimental, which is one of his strongest attributes as a writer. His work drops you immediately into the narrative, is full of detail, and rarely needs more than a minimal edit. Marcus is one of the most natural storytellers I've ever met, and he has the kind of curiosity needed to get to the heart of the subject."
- Marla Cantrell -


Comedian Marcus

I am lucky enough to be one of the founding members of Squashpants Comedy Troupe, a sketch comedy group in Fort Smith, Arkansas. Our first show is currently in the works. If you need a way to spice up your private party our group event, our comedy team can do it. We offer skits, stand up, and improv.
Cost: Varies
People Say...
---
"Marcus Coker is especially funny after a few glasses of scotch. He did an impromptu holiday monologue at Friday's once that has yet to be rivaled. Yep, he's pretty funny and creative, just give him a drink first. But, only for humor purposes ... not if you want him paint your walls."
- Jennifer Canada (a True Friend) -
---
"Marcus Coker is an incredible dancer who dances as if no one is watching, usually because no one ever is."
- Ian Miller (a Real Comedian, Himself) -